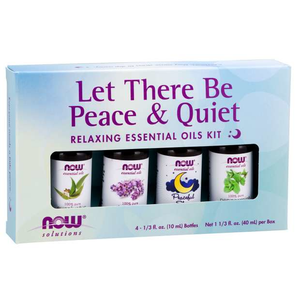 Now Essential Oils Let There Be Peace & Quiet Relaxing Essential Oils Kit is the perfect kit of essential oils to wind down with. After a full day of work, errands, social engagements, kids, or whatever fills up your day, it's not always easy to wind down. If only it could be as easy as flipping a switch. Actually, it's almost that easy with soothing and relaxing essential oils from NOW Solutions.

Features:
Relaxing Essential Oils Kit
For Rest and Relaxation
Four of NOW's Most Popular Relaxing Oils and Blends Promote Peace and Tranquility Anytime, Anywhere
Kit Includes:  One 10 mL bottle of each of the following essential oils:  Pure Lavender, Pure Peppermint, Pure Eucalyptus and Peaceful Night Blend
Extraction Method: Lavender, Eucalyptus, Peppermint -- Steam Distilled; Peaceful Night Blend (Orange Oil & Tangerine Oil -- Cold Pressed, Lavender Oil, Chamomile Oil, Ylang Ylang Oil & Sandalwood Blend -- Steam Distilled)
Purity Tested/Quality Assured.
Hexane free
Directions: For fragrance purposes. For all other uses, carefully dilute with a carrier oil such as jojoba, grapeseed, olive, or almond oil prior to use. Please consult an essential oil book or other professional reference source for suggested dilution ratios.

Caution: Keep out of reach of children. Avoid contact with skin or eyes. If pregnant or lactating, consult your healthcare practitioner before using. Not for internal use. Natural essential oils are highly concentrated and should be used with care.