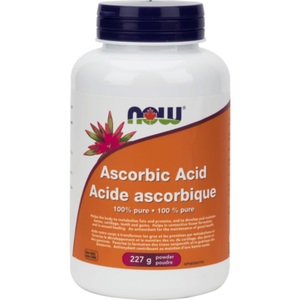 Ascorbic Acid is another name for Vitamin C, which is a popular antioxidant and one of the most widely used vitamins in the world. This product offers 100% purity and is more convenient to use than many Vitamin C Powders, as the fine Powder dissolves more readily in liquids than regular crystalline ascorbic acid. This highly concentrated Powder provides over 1 gram of Vitamin C per 1/4 teaspoon.
Features:
An antioxidant for the maintenance of good health
Helps develop and maintain bones, cartilage, teeth and gums
Helps connective tissue formation, and aids in wound healing
100% Pure Powder
Pharmaceutical Grade
Vegetarian/Vegan Product
Gluten Free
Suggested Usage: As a dietary supplement, take 1/2 level teaspoon 1 to 3 times daily, in juice or water.