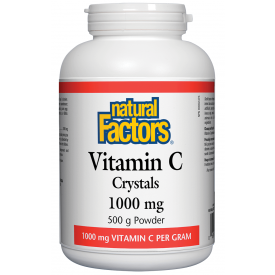 Vitamin C is best known for its antioxidant activity. It is also important for the normal development and maintenance of bones, cartilage, teeth, and gums. Natural Factors Vitamin C Crystals contain 1000 mg of vitamin C per ¼ teaspoon and is easily dissolved in liquid for optimal absorption.
Mixes easily in water or juice
Enhances immune system function
Promotes wound repair
Builds strong, healthy bones and teeth
Powerful antioxidant
Improves circulation and the appearance of varicose veins  
Vitamin C is a powerful vitamin with infection-fighting properties, playing a large role in immune system function. Vitamin C is crucial for the formation of collagen, making this vitamin very important for wound repair, healthy gums, strong bones and teeth and, in the prevention of bruising.

As a powerful antioxidant, it protects the aqueous areas of the body (including the blood, intracellular fluid and interstitial fluid) from free radicals. Because it is a water-soluble vitamin, the body cannot store vitamin C, making regular supplementation vital. The body's need for vitamin C increases during times of stress because it participates in the production of vital chemicals, such as those needed for the "fight or flight" response.

Natural Factors Vitamin C Crystals are in powder form, with 1000 mg of vitamin C per ¼ teaspoon dosage. This high-vitamin C formula is easily dissolved in liquid and therefore offers optimal absorption and assimilation within the body. The crystals are free of artificial colours, preservatives and sweeteners, is suitable for vegetarian and vegans, and is free from GMOs.