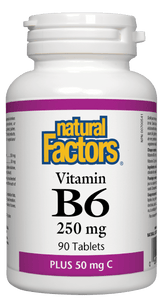 Natural Factors Vitamin B6 Plus C helps in the development and maintenance of bones, cartilage, teeth,and gums. It helps the body metabolize fats, proteins, and carbohydrates and helps in tissue formation. Ideal for those who live a busy stressful life, as the vitamin C helps maintain a healthy immune system.
Benefits:
Helps alleviate PMS
Support for certain pregnancy conditions like nausea and vomiting
Prevents and relieves symptoms of carpal tunnel syndrom
May inhibit the formation of kidney stones
Directions:1 tablet daily, or as directed by a health care practitioner.