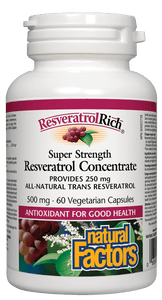 Resveratrol is a type of polyphenol, an antioxidant compound highly concentrated in red grapes – and therefore wine – as well as other plants such as Japanese knotweed. It is also found in blueberries and bilberries, but in much lower concentrations. In its natural trans-resveratrol form (the form found in grapes and knotweed) resveratrol helps protect the body from free radicals that cause oxidative damage and inflammation.

Because cumulative cell damage from free radicals can speed age-related decline, preventing free radical damage is important to maintaining optimal health throughout the lifespan. Studies show that resveratrol increases the body's resistance to stress, especially oxidative stress. Taking resveratrol can improve age-related health conditions and increase longevity.

Natural Factors ResveratrolRich Super Strength Resveratrol provides a high potency of 250 mg of trans-resveratrol in each 500 mg vegetarian capsule. The resveratrol is extracted from the skins of red grapes (Vitis vinifera), grown in the Okanagan Valley of British Columbia, and from Japanese knotweed (Polygonum cuspidatum). The knotweed is highly purified to remove 99% of the emodin, a natural substance that can act as a laxative in some sensitive people. Knotweed is commonly used in traditional medicines for the liver and heart.