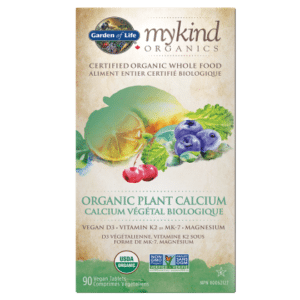 Finally, a whole food calcium formula that includes plant-sourced magnesium, Vegan D3 and Vitamin K2 as MK-7, that's both Certified USDA Organic and Non-GMO Project Verified. Many calcium supplements come from rocks—ground-up, pulverized limestone—but Organic Plant Calcium is made from organic plants, including 20 powdered fruits and vegetables. Bone health is a huge concern for millions of people in the United States who already have osteoporosis or are at high risk for it due to low bone mass—a number which is projected to increase. That's why daily supplementation with a high-quality calcium supplement formula such as Organic Plant Calcium is so important as part of a daily bone health program—one that also incorporates calcium-rich foods and daily, low-impact exercise.

Benefits:
Promotes bone strength
Is easy to digest plant-sourced calcium, not made from crushed rocks
Reduces the risk of osteoporosis
Organic Clean Tablets—No Magnesium Stearate (Vegetable Lubricant)
Made from Certified Organic Whole Foods from Organic Farms
Soy Free, Vegan
Medicinal Ingredients: Vitamin D3 (Cholecalciferol) ......... 8.33 mcg / 333 IU, Vitamin K2 (Menaquinone 7)......... 27 mcg, Calcium (Coralline Red Algae – Whole)...........250 mg, Magnesium (Coralline Red Algae – Whole)........ 25 mg. 

Non-Medicinal Ingredients: Organic Fruit and Vegetable Blend (Organic Apple, Organic Beet, Organic Carrot, Organic Spinach, Organic Broccoli, Organic Tomato, Organic Kale, Organic Red Cabbage, Organic Parsley, Organic Brussels Sprout, Organic Green Bell Pepper, Organic Cucumber, Organic Celery, Organic Garlic, Organic Ginger, Organic Green Onion, Organic Cauliflower, Organic Asparagus, Organic Strawberry, Organic Cherry, Organic Blackberry, Organic Blueberry, Organic Raspberry), Organic Gum Arabic, Organic Dextrose, Organic Potato Starch, Organic Oryza sativa (Rice) Hull Powder, Organic Rice Bran, Organic Coating (Organic Maltodextrin, Organic Sunflower Lecithin, Organic Palm Oil, Organic Guar Gum).