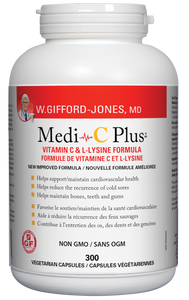 What to expect from this Dr. W. Gifford Jones product:
Helps support cardiovascular health
Helps collagen formation
Maintains healthy teeth and gums
Maintains healthy bones and cartilage
Helps connective tissue formation
Helps wound healing
Helps maintain good health
Humans do not make Vitamin C like animals do; we need to supplement this essential vitamin to meet our daily needs. Inadequate amounts of Vitamin C means poor collagen. Vitamin C and Lysine work together to build collagen, which strengthens and holds together the coronary cells. Coronary arteries, closest to the heart, receive the greatest pressure. Without enough Vitamin C the collagen weakens. This sets the stage for heart attack or stroke. Healthy collagen also supports healthy teeth, gums, cartilage, bones, connective tissue and wound healing. The antioxidants in Medi-C Plus also support and help maintain good health
Each Capsule Contains (Medicinal Ingredients):
Vitamin C (magnesium ascorbate, ascorbic acid)  400 mg
Magnesium (magnesium ascorbate)   42 mg
L-Lysine (L-Lysine hydrochloride)  260 mg
Non-medicinal Ingredients: Vegetarian capsule (cellulose, purified water), microcrystalline cellulose, vegetable grade magnesium stearate (lubricant), silica.