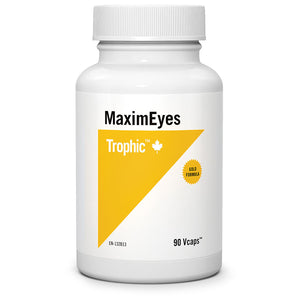 MaximEyes GOLD FORMULA contains the purest, most active ingredients found to protect vision health, while combating age-related macular degeneration, cataracts, and free radical damage. Grape seed extract can promote and maintain healthy vision by neutralizing free radicals and protecting the blood vessel walls within the eyes. Bilberry extract is well known for supporting vision. Lutein and zeaxanthin are two other key antioxidants that promote vision health. Alpha-lipoic acid has a profound beneficial effect on the utilization of glucose. Lycopene is another well known powerful antioxidant.
Each Capsules Contains
Medicinal Ingredients:
Grape Seed Extract (Vitis vinifera) (seed) ……. 25 mg
(95% proanthocyanidins)
Bilberry Extract 100:1 (Vaccinium myrtillus) (berry)…… 40 mg
(25% Anthocyanidins)
4 g Dried Equivalent
Lutein (oleoresin of Tagetes erecta L. flower)……. 2 mg
Zeaxanthin (oleoresin of Tagetes erecta L. flower) ……. 2 mg
DL-Alpha Lipoic Acid ……………….10 mg
Tomato (Lycopersicon esculentum) (fruit) ……………..1 mg
Non-Medicinal Ingredients:
Hypromellose, cellulose, magnesium stearate and silica.
Directions:
Adults, take 3 VcapsTM daily with meal containing oil/fat or as directed by a healthcare practitioner.
Recommended Use:
Antioxidant for the maintenance of eye health.