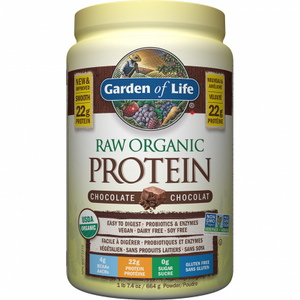 Raw Organic Protein Powder - Chocolate
Raw Organic Protein is a Certified Organic, Non-GMO Project Verified raw vegan protein powder made with 13 raw sprouted proteins delivering 22g of protein with a complete profile of all the essential amino acids along with added fat-soluble vitamins, probiotics and enzymes.
Unleash the nutritive power of living grains and seeds with Garden of Life Raw Organic Protein—a certified organic, raw, vegan protein powder with a scrumptious taste. Featuring 22 raw and organic sprouts, Raw Organic Protein provides 22g of protein and includes all essential amino acids. Raw Organic Protein contains RAW Food-Created fat-soluble vitamins A, D, E and K and supports intestinal health with live probiotics all while helping digest proteins with its enzymes. Raw matters because heat can denature proteins, reducing their availability to your body. But Garden of Life's Certified Organic plant proteins are different—always gently produced at low temperatures, without any added fillers or carriers, preserving their complete amino acid integrity and whole-food, Certified Organic, Non-GMO goodness.

Raw Organic Protein Powder Benefits:
Helps build and repair muscle
Good for pre- and post-workout – ensure to drink enough water before, during and after exercise
Promotes protein synthesis
Easily digested
Suitable for vegetarians and vegans
Good for those with sensitivities to milk and other proteins
Highest quality alternative to soy, whey and milk protein
No Fillers, No Artificial Flavors or Sweeteners, No Preservatives