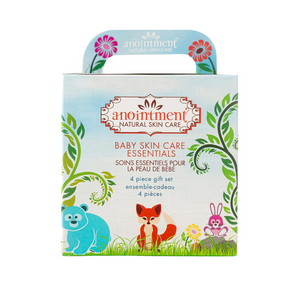 Everything you need to nourish, protect and soothe a baby's skin from the first bath to toddlerhood: Baby Balm, Baby Oil, Calendula soap and a washcloth. A wonderful gift!
A perfect baby shower gift.
When you meet your baby for the first time, it feels like the world has stopped and only the two of you exist. You know straight away that you only want the best for this new, perfect person. That's what inspired us to create our pure and natural skin care products, using only the finest ingredients from nature and certified organic agriculture. A baby changes everything – beautifully.
Ingredients:
Baby Balm: (50 g) Olea europaea (Olive) Fruit Oil*, Cera alba (Beeswax), Symphytum officinale (Comfrey) Leaf Extract*, Calendula officinalis (Calendula) Flower Extract*, Althaea officinalis (Marshmallow) Root Extract*, Lavandula angustifolia (Lavender) Flower Extract*, Lavandula officinalis (Lavender) Oil, Tocopherol (Vitamin E)
Baby Oil: (100 mL) Olea europaea (Olive) Fruit Oil*, Helianthus annuus (Sunflower) Oil*, Calendula officinalis (Calendula) Flower Extract*, Anthemis nobilis (Chamomile) Flower Extract*, Lavandula angustifolia (Lavender) Flower Extract*, Lavandula officinalis (Lavender) Oil, Tocopherol (Vitamin E)
Calendula Soap: (100 g) Sodium Olivate (Olive Oil), Sodium Cocoate (Coconut Oil), Sodium Palmate (Palm Oil), Aqua (Water), Glycerin, Calendula officinalis (Calendula) Flower, Calendula officinalis (Calendula) Flower Extract, Butyrospermum parkii (Shea Butter)*
*certified organic